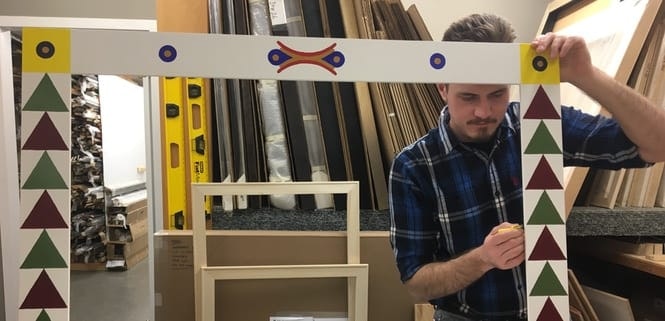 Custom Picture Framing in Winnipeg
Mayberry Fine Art's full-service framing workshop is located within our downtown Winnipeg location. Visit us there or at our Corydon gallery for in-depth consultation. Our experienced staff can help assist in choosing the most appropriate presentation for your valued pictures, paintings and more.
All your pictures,artworks, prints, posters, memorabilia and family Heirlooms can be custom framed by our experienced staff.
Our framing experts are skilled craftsmen, experienced in conservation framing, including hand-built specialty and replica frames.
For almost 50 years Mayberry Fine Art has been framing, conserving and restoring many important works of art and is committed to treating all work with the same importance.
Framing
Frame Restoration and Repair
Canvas stretching
Mounting
Replica Frames
Bespoke Frames
Top Quality Framing Suppliers
Mayberry Fine Art sources all its Mouldings, Mats and other archival materials from leading manufactures.
What is Archival Framing?
Acids from the wood pulp found in the boards and backing of some framing materials will burn and degrade artwork.  Art on paper is most vulnerable to damage caused by antiquated or improper framing techniques.  Archival or conservation framing is a museum-quality presentation that only uses materials that protect the artwork:
1. Acid-free mat boards, backing and barrier paper are made with 100% Rag (cotton) fibre, which will not burn or discolour prints, watercolours and drawings.
2. Museum glass with a super-clear coating to filter out harmful UV rays which cause fading/burning in the artwork on paper, as well as photographs.
3. Museum-quality tape and hinges, to hold artwork firmly and safely in place.
Our craftspeople have extensive experience creating replica frames that match the style and era from when the work was originally produced. We build frames for many important Canadian artists such as Maud Lewis, William Kurelek and Joe Norris. Contact us to discuss your needs and let us help you achieve the presentation you desire.
Contact us for Custom Picture Framing Services
Mayberry Fine Art Services