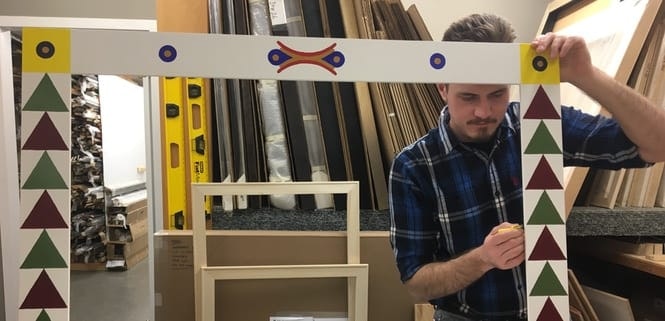 Custom Picture Framing in Winnipeg
Welcome to Mayberry Fine Art, where we offer a full-service framing workshop to help you present your valued pictures, paintings, and other artworks in the most appropriate way possible. Our experienced staff is here to provide in-depth consultation and assist you in choosing the perfect frame for your art.
Whether you have pictures, prints, posters, memorabilia, or family heirlooms that need custom framing, our team of experts is here to help. Our skilled craftsmen are experienced in conservation framing, including hand-built specialty and replica frames, ensuring that your art is treated with the utmost care and attention.
At Mayberry Fine Art, we have been framing, conserving, and restoring important works of art for almost 50 years. We understand the value of your art and are committed to treating every piece with the same importance and respect.
So if you are in need of professional framing services, visit us at our downtown Winnipeg location or at our Corydon gallery. Our team is always ready to help you find the perfect solution for presenting your art. We look forward to working with you and helping you find the perfect way to display your valued pieces.
Framing
Frame Restoration and Repair
Canvas stretching
Mounting
Replica Frames
Bespoke Frames
Top Quality Framing Suppliers
Mayberry Fine Art sources all its Mouldings, Mats and other archival materials from leading manufactures.
What is Archival Framing?
If you're looking to properly display and protect your artwork, archival framing is the way to go. This museum-quality framing technique ensures that your artwork will be preserved in the best possible condition.
One of the biggest threats to artwork is acid deterioration. The wood pulp in some framing materials can release acids that can burn and degrade your artwork, especially if it is on paper. Archival framing utilizes materials that are designed to protect your artwork and prevent this type of damage.
To achieve the best results, archival framing uses acid-free mat boards, backing, and barrier paper made from 100% rag (cotton) fiber. These materials won't burn or discolor prints, watercolors, and drawings, so you can trust that your artwork will be safe.
In addition to acid-free materials, archival framing also often includes museum glass with a super-clear coating. This glass filters out harmful UV rays, which can cause fading and burning in artwork on paper and photographs.
To hold your artwork firmly and safely in place, archival framing also uses museum-quality tape and hinges. With these materials, you can trust that your artwork will be properly supported and protected for years to come.
If you're looking to properly display and protect your artwork, archival framing is the way to go. Our craftspeople have extensive experience creating replica frames that match the style and era of the original artwork. We have built frames for many important Canadian artists, such as Maud Lewis, William Kurelek, and Joe Norris.
To discuss your needs and learn more about how we can help you achieve the perfect presentation for your artwork, don't hesitate to contact us. We would be happy to work with you to find the best solution for your specific needs.
Contact us for Custom Picture Framing Services
Mayberry Fine Art Services