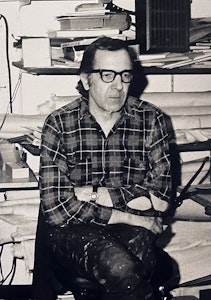 William Perehudoff was born in Langham, Saskatchewan and has maintained a connection to this area ever since. Currently dividing his time between Saskatoon and the family farm, which has been developed into an art compound encompassing studios and storage facilities for himself and his wife, he continues his practice as a leading Canadian painter.In 1944, the Saskatoon Art Centre opened, and this provided Perehudoff with early and important access to art. Within a couple of years he was exhibiting regularly in group exhibitions such as the Saskatoon Exhibition and the Art Centre fall show. Throughout this phase of his development as an artist, he farmed in the summer and devoted himself to painting and his art education in the winter.Like many artists of the time, Perehudoff had been influenced by the motivations and methodologies of social realist artists such as Diego Rivera. Perehudoff took instruction from the influential French muralist Jean Charlot, as well as Amédé Ozenfant in New York, the French Purist and associate of Le Corbusier. Kenneth Noland, a very important colourfield painter, was also a major influence to his work.Since the 1960s, Perehudoff has been a central figure in Canadian abstraction and perhaps its most celebrated colourfield painter. The effect of the flat plains and open skies that are so dramatically in evidence throughout Saskatchewan seem to some to be very present in his work. William Perehudoff received the Saskatchewan Order of Merit in 1994 and an honorary doctorate from the University of Regina in 2003. He was named a Member of the Order of Canada in 1998.
William Perehudoff Wanted for Purchase
Mayberry Fine Art and our clients are actively seeking works by artist William Perehudoff for purchase or consignment. Contact us for confidential assistance when offering a work by William Perehudoff for private sale.
Add William Perehudoff to your Collector Profile
Want to get notifications or exclusive online offers for artwork by William Perehudoff? Add them to your collector profile and let us know what you're looking for.