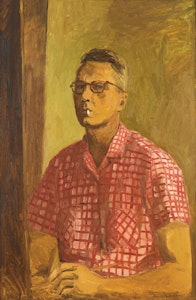 Roberts was born in Barbados in 1904 to a prominent Canadian literary family. His father, Theodore, was a poet, novelist, and journalist. Roberts began his studies at Montreal's Ecole des Beaux-Arts but, encouraged by his art-critic aunt, Mary Fanton Roberts, he enrolled at New York's Art Students League. His New York schooling would prove to be a major influence on his career. During the 1930s Roberts lived, painted, and taught in Ontario. He was the very first artist-in-residence at Queen's University in Toronto. Refusing to incorporate nationalist content into his work, Roberts became recognized for his modernist approach. In the 1940s, Roberts moved to Montreal and continued painting and teaching. He was admired by Quebec's francophone art community who saw in his work a reflection of the modernist figurative tradition from France, known in Montreal as "living art." His works were equally divided into the themes of landscapes, portraits and still lifes; all are textbook examples of each style. The artist's last major retrospective was held at the National Gallery of Canada in 1969. He died in January 1974.
William Goodridge Roberts Wanted for Purchase
Mayberry Fine Art and our clients are actively seeking works by artist William Goodridge Roberts for purchase or consignment. Contact us for confidential assistance when offering a work by William Goodridge Roberts for private sale.
Add William Goodridge Roberts to your Collector Profile
Want to get notifications or exclusive online offers for artwork by William Goodridge Roberts? Add them to your collector profile and let us know what you're looking for.