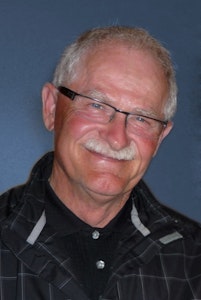 Wilf Perreault was born in Albertville, Saskatchewan in 1947. While growing up in Saskatoon, he received private art lessons from the great Saskatchewan painter, Ernest Lindner. Perreault's formal art training began at the University of Saskatchewan, where his interest in representational painting conflicted with the New York-style abstraction, prevalent in Saskatchewan at that time. Under the instruction of Otto Rogers and Bill Epp, he instead focused on abstract sculpture. After graduation (BFA in 1970, BEd in 1971), Perreault relocated to Regina to teach art at the high school level. With thoughts of returning to representational painting, he began to search the city for inspirational subject matter. He unexpectedly found his muse in a back alley one day, where he had stopped to look at the reflection of sky and buildings in a puddle. Looking up, he saw, not a typical Regina back lane, but a hidden cityscape to capture his imagination. By portraying the back lane at different times of the day and year, this subject has sustained his interest throughout a long career. In 1989 Wilf Perreault was chosen to be one of five artists to represent Canada in Les Jeux de la Francophonie in Morocco, where he won the Silver Medal. He is a member of the Royal Canadian Academy of Arts and was awarded the Queen's Jubilee Medal in 2003. In 2014, the Mackenzie Art Gallery honoured Wilf Perreault with a major exhibition. Perreault's work can be found in public, private and corporate collections throughout North America and abroad.
Add Wilf Perreault to your Collector Profile
Want to get notifications or exclusive online offers for artwork by Wilf Perreault? Add them to your collector profile and let us know what you're looking for.