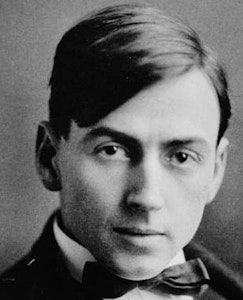 Tom Thomson was born near Claremont, Ontario and grew up in Leith, near Owen Sound. After moving to Toronto his early career was spent as a commercial artist at Grip Ltd., the commercial design firm where he first met MacDonald, Harris, Jackson, Lismer and others. By 1911, Thomson was making regular sketching trips to areas north of Toronto and in 1912 he made the first of many trips to Algonquin Park. As well as being an artist, Tom Thomson was an avid outdoorsman and Algonquin Park soon became his favourite place to paint. His enthusiasm for its quiet, untouched landscape with its changing moods and bright fall colours inspired other artists to explore the region. After 1914, Tom Thomson spent most of his time painting in Algonquin, except during the coldest winter months. It was during this period that he produced the bulk of his paintings of this rugged northern landscape. Thomson's brief but prolific career as an artist came to a premature end when he drowned in Canoe Lake in 1917, just three years before the Group of Seven held their first exhibition. His artistic achievement was to remain an inspirational force to other Group members.
Tom Thomson Wanted for Purchase
Mayberry Fine Art and our clients are actively seeking works by artist Tom Thomson for purchase or consignment. Contact us for confidential assistance when offering a work by Tom Thomson for private sale.
Add Tom Thomson to your Collector Profile
Want to get notifications or exclusive online offers for artwork by Tom Thomson? Add them to your collector profile and let us know what you're looking for.