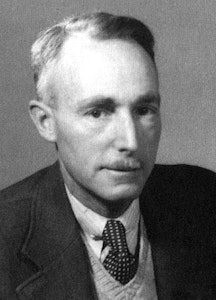 Tom Roberts was the grandson of Samuel Roberts who founded the Roberts Gallery in Toronto in 1842. Roberts Gallery is the oldest fine art gallery in Canada. Spending considerable time in the gallery during his youth, Tom Roberts resolved at an early age to become an artist. He studied art at Toronto's Central Technical School and at the Ontario College of Art under such well-known artists as J.W. Beatty, who had preceded the Group of Seven in the discovery of Northern Ontario for subject matter, and Fred Haines. Roberts was also influenced by the Group of Seven and the French Impressionists. By 1928, Tom Roberts was established as a freelance artist in the fields of commercial and fine art. He did his easel painting in water colours, oils and acrylics, and his subject matter varied from northern landscapes, to town and country scenes in Ontario and subjects in Quebec and the Maritimes. Roberts also did interiors and experimental painting. While in military service during World War II, Roberts portrayed army life in pencil and watercolour sketches. After the war, he painted landscapes at many locations as he travelled across the country. In the mid-1980s, he held over 30 one-man exhibitions in Toronto alone. His work is held in many private, corporate and public collections.
Tom Roberts Wanted for Purchase
Mayberry Fine Art and our clients are actively seeking works by artist Tom Roberts for purchase or consignment. Contact us for confidential assistance when offering a work by Tom Roberts for private sale.
Add Tom Roberts to your Collector Profile
Want to get notifications or exclusive online offers for artwork by Tom Roberts? Add them to your collector profile and let us know what you're looking for.
Sampson-Matthews Silkscreen , circa 1953
30 x 40 in
$1,600.00 including frame
---