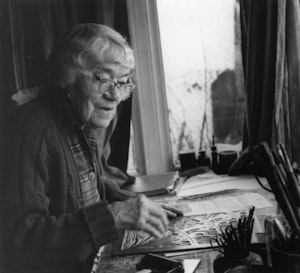 Born in Suffolk in England, Andrews was trained in the modernist style at the Grosvenor School of Modern Art in London. She became part of a group of artists who worked in the linocut print medium and who embraced a modern expressionist style. The linocut print was a new medium having first been used in 1912. This group of printmakers, led by Claude Flight, were considered to be avant garde and experienced some antagonism from the traditional art establishment. Andrews favored subjects which were ordinary in and of themselves, portraying them in a dynamic expressionist style. Andrews immigrated to Canada with her husband in 1947, settling in Campbell River. She continued to work steadily on her linocut prints while teaching weekly art classes. Recognition of her work came shortly after her arrival in 1948 with a one-person exhibition at the Vancouver Art Gallery. She was elected as a member of the Canadian Society of Painter-Etchers and Engravers in 1951.The Glenbow Museum,Canada is a major centre for the study of her work with a collection of over 1000 examples of Andrews' works, including all of her famous colour linocuts and the original linoleum blocks, paintings in oil and watercolour, drawings, drypoint etchings, sketchbooks, and personal papers. Her work is also represented in such prestigious public collections as the Victoria and Albert Museum in London, England; the National Gallery of New Zealand; and the Art Gallery of Ontario.
Sybil Andrews Wanted for Purchase
Mayberry Fine Art and our clients are actively seeking works by artist Sybil Andrews for purchase or consignment. Contact us for confidential assistance when offering a work by Sybil Andrews for private sale.
Add Sybil Andrews to your Collector Profile
Want to get notifications or exclusive online offers for artwork by Sybil Andrews? Add them to your collector profile and let us know what you're looking for.