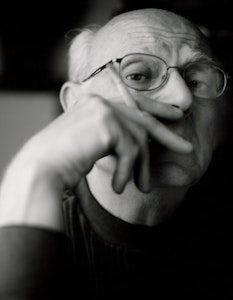 One of Canada's most important sculptors, Sorel Etrog was appointed a member of the Order of Canada in 1994, and Chevalier dans L'Ordre des Arts et des Lettres by France in 1996; Etrog's work is represented in major capitals and cities of the world and is included in the permanent collections of the National Gallery of Canada, Ottawa; the Art Gallery of Ontario, Toronto; the Montreal Museum of Fine Arts, among others._ Sorel Etrog's work develops a complex visual vocabulary that explores time and the permanent bond between the plastic arts, with architecture on one hand, and society on the other. Etrog explores spontaneous symbols, primal elements and the relationship between form and symbol. The artist describes his art as "tension created by pulling together and pulling apart, with being stuck and being freed, a world of grabbing and holding on and losing hold… bringing shapes together but at the same time giving each an independence." Etrog designed Canada's top film award in 1968, "the Genie" statuette (which was known as "the Etrog" until 1980) and has collaborated with artists such as Eugene Ionesco, Samuel Beckett, John Cage and Marshall McLuhan. He has received several important commissions, including those for Expo '67, Montreal; SunLife Centre, Toronto; Windsor Sculpture Garden, Windsor, Ontario; Los Angeles County Museum, and Olympic Park in Seoul, Korea. His work has been part of many group exhibitions at the National Gallery of Canada, Ottawa; The Carnegie International, Pittsburg; The Museum of Modern Art, New York, The Solomon R. Guggenheim Museum, New York; the Hirshhorn Museum and Sculpture garden, Washington, D.C.; Palazzo Vecchio, Florence; Musee des Beaux-Arts, Le Havre; Musee Rodin, Paris; Kunstmuseum, Basel; and the Centre Georges Pompidou, Paris.
Sorel Etrog Wanted for Purchase
Mayberry Fine Art and our clients are actively seeking works by artist Sorel Etrog for purchase or consignment. Contact us for confidential assistance when offering a work by Sorel Etrog for private sale.
Add Sorel Etrog to your Collector Profile
Want to get notifications or exclusive online offers for artwork by Sorel Etrog? Add them to your collector profile and let us know what you're looking for.