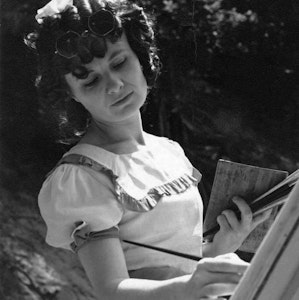 Born in 1912, at Baie-St-Paul, Quebec, Simon-Mary Bouchard, one of a family of 14 children. She began her artistic career creating and selling hooked rugs to tourists. She soon expanded her art repertoire to include painting. Although she had no formal art training, her works displayed considerable talent. She became a member of the Contemporary Arts Society and exhibited her paintings with them. Her oil paintings depicted genre scenes of her community. The Boston, Mass. collector, Patrick Morgan, discovered her work on a summer vacation in Murray Bay. Other collectors also eagerly sought her work. Her work was included in the Montreal Museum of Fine Arts' Spring Exhibition in 1945, the year of her death. In a 1965 Maclean's article, Dorothy Eber described S.Mary Bouchard as follows, "She painted with a lyrical quality that puts her work in a class by itself…She's Quebec's greatest primitive." When she died at the age of 32, her younger sisters, Marie-Cacile and Edith, continued the painting tradition, with success. Six works by Simone-Mary Bouchard are represented in the collection of the National Gallery of Canada.
Ref:A Dictionary of Canadian Artists, Vol.1, by Colin S. MacDonald, Canadian Paperbacks, Ottawa, Revised and expanded, 1997
Simone-Mary Bouchard Wanted for Purchase
Mayberry Fine Art and our clients are actively seeking works by artist Simone-Mary Bouchard for purchase or consignment. Contact us for confidential assistance when offering a work by Simone-Mary Bouchard for private sale.
Add Simone-Mary Bouchard to your Collector Profile
Want to get notifications or exclusive online offers for artwork by Simone-Mary Bouchard? Add them to your collector profile and let us know what you're looking for.