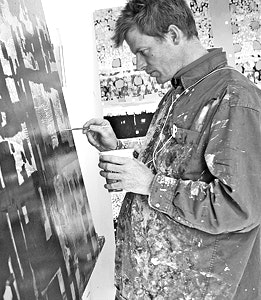 "I chose 'irremeable' as a title as the idea of 'no return' resonates with me on many levels.In my painting process: I start with one colour and building out from it and all other colours modified and referenced. Compositions change, move and develop on the canvas…rarely following an original idea or sketch to the letter – changes are never a reversal, they are always a progression. I am resigned to letting time do the painting." After studying architecture at the University of Manitoba, Sean worked with various architecture firms in Canada as a designer and illustrator. In 1992, he left the architecture profession to devote himself entirely to painting and sculpture. With over 20 years of experience across Canada as an artist, designer and illustrator he recently relocated back to Regina to continue his art career. Sean's previous experience in architectural design has informed his artistic process, with artworks that reveal unique spatial perspectives, distorted by shadows and reflections.
Add Sean William Randall to your Collector Profile
Want to get notifications or exclusive online offers for artwork by Sean William Randall? Add them to your collector profile and let us know what you're looking for.