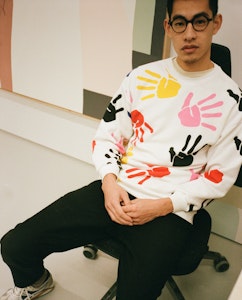 Scott Sueme is a Canadian artist raised in Vancouver, BC, currently working out of his studio in East Vancouver. Since attending Emily Carr in 2006, Sueme has been working as a graphic artist and painter. Starting in the graffiti subculture, he has ventured through art, design, and installation painting. Sueme has been commissioned to work with collaborators such as HCMA Architecture, The City of Vancouver, and the Vancouver Parks Board. He has also exhibited his work Internationally in New York, San Francisco, Miami and Cape Town South Africa. Sueme's paintings broadly follow a rubric of energetic interaction, where the juxtaposition of two colours is meant to create what he refers to as an "edge": two off-whites, a pale and warm variant of the same hue, or two colours that match in value but clash in tone, for example. While colour quality makes up the main subject of his work, Sueme's recent compositions speak to an ongoing investigation of balance and arrangement. As form and colour are composed, we experience their interactions as moments of playful conversation, where elements vibrate with one another and settle in harmony.

Scott Sueme Wanted for Purchase
Mayberry Fine Art and our clients are actively seeking works by artist Scott Sueme for purchase or consignment. Contact us for confidential assistance when offering a work by Scott Sueme for private sale.
Add Scott Sueme to your Collector Profile
Want to get notifications or exclusive online offers for artwork by Scott Sueme? Add them to your collector profile and let us know what you're looking for.