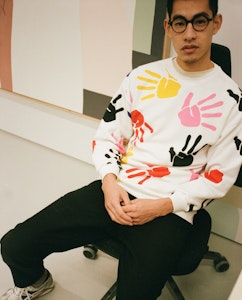 Scott Sueme is a Canadian artist raised in Vancouver, BC, on the unceded traditional territory of the Musqueam, Squamish and Tsleil-Waututh Nations. Sueme attended Emily Carr University of Art + Design in 2006, and has since worked in many fields including fine art, graphic design and large-scale wall paintings. Sueme has exhibited throughout Canada, as well as internationally, including New York, San Francisco, Miami and Cape Town. Recent exhibitions include 'Building Buildings' at Mayberry Fine Art in Winnipeg (2020) and 'Intercepting the Nature of Colour and Form' (2020) at Gallery Jones in Vancouver.
Sueme's paintings are rooted in an exploration of materiality – principally, the quality and perception of colour. In his work, colour manifests as an abstraction of various elements of life, interacting to recall memories, capture the passage of time or connect with the subconscious. Sueme's hard-edge painting techniques create a subtlety of depth that reveals a new resonance to colour and an admission of the human hand. This "imperfect" process of making calls to a nostalgia or authenticity – an honouring of the handmade. Through an intimacy of material interaction, Sueme's works act as small records of larger lived experiences and a conversational catalogue of human imprints.
Add Scott Sueme to your Collector Profile
Want to get notifications or exclusive online offers for artwork by Scott Sueme? Add them to your collector profile and let us know what you're looking for.