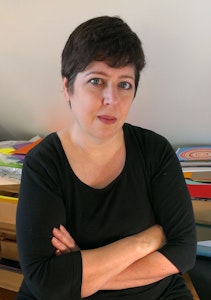 Sarah Gee Miller lives and works in Vancouver BC. She makes paintings and collages that reflect an interest in regularity, equilibrium and the formalities of hard-edged abstraction. In her paintings, the hard edge is combined with what she calls "warm modernism", a distinctly west coast biomorphism that gives her work a kind of living energy. In the last few years, Sarah has had several group shows and five solo shows, both national and international. Her work can be found in corporate and private collections across Canada, Britain, the United States, and Australia, and has recently been featured in Juxtapoz Magazine as well as Montreal's Papier 2014 and 2015.
Add Sarah Gee Miller to your Collector Profile
Want to get notifications or exclusive online offers for artwork by Sarah Gee Miller? Add them to your collector profile and let us know what you're looking for.