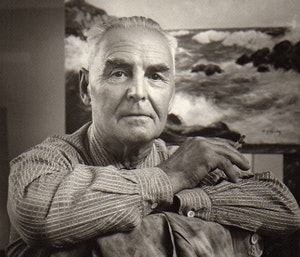 Born in England, Gissing became a painter of Canadian mountains and foothills. He was the son of an author and studied at George Watson's College in Edinburgh, Scotland. His love of American cowboy movies influenced his move to Canada in 1913, and for ten years he worked as a ranch hand in Alberta, Montana, Nebraska, and Arizona. Painter C.W. Jefferys in Calgary encouraged his art talent and Gissing settled near Cochrane at the fork of the Ghost and Bow Rivers. In 1929 he had his first one-man show which was highly successful although he had had little formal instruction. A studio fire in 1944 destroyed his oil paintings so he turned to watercolor of the English school painting in clear, soft tones. His main subjects were sunlit mountains and rivers, scenes reproduced on calendars and cards, and he would often backpack into the wilderness for weeks to get his subjects.
Roland Gissing Wanted for Purchase
Mayberry Fine Art and our clients are actively seeking works by artist Roland Gissing for purchase or consignment. Contact us for confidential assistance when offering a work by Roland Gissing for private sale.
Add Roland Gissing to your Collector Profile
Want to get notifications or exclusive online offers for artwork by Roland Gissing? Add them to your collector profile and let us know what you're looking for.