Acrylic on canvas , 2011
11 x 14 in
$4,500.00 including frame
---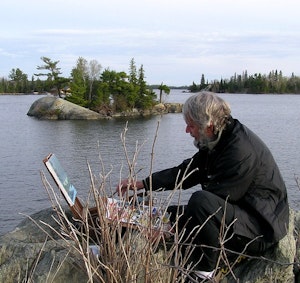 One of Canada's most accomplished painters, Robert Genn gained an international recognition for his landscape subjects of Canada's West Coast. Extremely prolific and dedicated to his art, he painted in most parts of Canada, the United States, Central America, Europe, and Asia. He was born in Victoria, British Columbia in 1936, and attended Victoria College, The University of British Columbia, and The Art Centre School in Los Angeles, California. Genn carried on the tradition of the Canadian Landscape with fresh, painterly techniques and strong design, often exhibiting his devotion to painting by reducing grand themes to small panels painted on location in the wilderness he loved.
Robert Genn has been a great inspiration to the Canadian art world and a personal friend for more than 35 years.
As Bob often said, his art would outlive him and it is a privilege for us to continue to represent his paintings as we have done over the many years. He will be greatly missed.
Add Robert Genn to your Collector Profile
Want to get notifications or exclusive online offers for artwork by Robert Genn? Add them to your collector profile and let us know what you're looking for.