Acrylic and iridescent copper on six canvas panels
60 x 204 in
Sold
---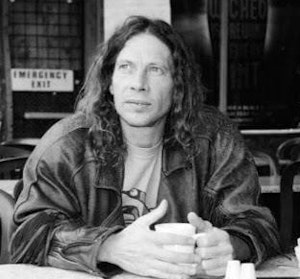 Ritchie Sinclair was born in January of 1957, in Thunder Bay, Ontario. His art training began at a very young age and like many children he was an avid painter. As a boy he found that kite making was another avenue to express his creativity. He won top awards at a Thunder Bay Boy Scouts kite flying contest for his large 6 sided kite painted with a wolf motif. When he was twelve years old, his parents became United Church missionaries and the family was posted to Hong Kong. He continued his interest in kites there, becoming proficient at the discipline of Chinese kite fighting.
He attended school in Kowloon where he was involved in sports, while maintaining a strong interest in art. It was during this time that he also took up the guitar, adding music to his list of creative pursuits. From that time forward he made art and music his focus. When the family returned to Canada on furlough, his father remained behind to work as a school headmaster. He did not return and the rest of the family settled permanently in Toronto. Throughout his youth, his interest in music and art continued to grow and deepen. His early artistic influences were Turner, Van Gogh, Picasso and Lawren Harris. He took solo canoe trips in Algonquin Park and went on climbing adventures to Canada's West Coast.
In 1976 Sinclair enrolled in Toronto's A.S.E. school (Alternative Scarborough Education), which was a dynamic learning environment for self-motivated individuals with a visual arts emphasis. The school's teaching philosophy suited him and he thrived there creatively. Two years later he enrolled in the commercial art course at George Brown College. On weekends he would go on canoe trips in search of Group of Seven painting sites in Algonquin Park.
In 1979 Sinclair met Ojibway artist and father of the Woodland painting school, Norval Morrisseau. They developed a rapport and he began to learn about native imagery and spirituality from the master artist/shaman. Under his tutelage, Sinclair experienced a spiritual epiphany. As Morrisseau's apprentice he was given the name "Stardreamer", and embarked on his own personal spiritual art exploration. It is a journey that continues to the present. His first solo exhibition entitled "Celestial Symbolism" took place in 1984. The following year he began to share a downtown Toronto studio with Morrisseau and fellow protégé, Brian Marion.
By this time Sinclair had two growing sons. Being a father inspired an interest in teaching native art, imagery and spirituality. He became a guest lecturer and facilitator, working with groups of young people in Ontario primary and secondary schools. It was a pursuit he enjoyed and found highly fulfilling, and one which he continues to this day. His strong desire to contribute to society's greater good and a better world in general greatly influenced the themes of his paintings. This gave his work an overtly positive spiritual quality and often led to exciting opportunities. "Lighthouse, A Beacon of Hope in a Time of Despair", Sinclair's monumental anti-Apartheid painting, was chosen to tour with Archbishop Desmond Tutu on his visit to Toronto in 1986. A second solo exhibition, "The Rabbit and the Resurrection", took place in 1987 at Toronto's Gallery St. Luke.
In 1991 Sinclair founded the "Purealist Art Group". The formation of the group was marked by a group exhibition. The group's works were characterized by fluid organic designs that exemplified the "Purealist" philosophy. In 1994 the First Nations Council of Elders selected Sinclair's monumental 16 x 21 foot painting entitled "Meeting Place" to be the centrepiece for the First International Pow Wow held in Toronto's Skydome. The following year Toronto's City Hall was the venue for his "Planet Heart" multimedia presentation for Earth Day, in which Sinclair utilized phosphorescent and fluorescent colours in his paintings, lit with ultraviolet lights for a dramatic effect. Two more exhibitions devoted to ultra-violet art, "Spirit Unearthed" and "The Inspirational Spirit" followed over the next two years.
In all, Sinclair's professional association with Norval Morrisseau spanned 18 years. The relationship culminated in 1997 as Morrisseau, on the grounds of the McMichael Canadian Collection, publicly performed the Beardance rite of renewal and regeneration, in which he passed on responsibility to Sinclair as Stardreamer. During this ceremony he received the rod of shamanistic initiation from Morrisseau. Sinclair and Morrisseau remained close friends until the artist's death in 2007.
Given his extensive knowledge of Norval Morrisseau's work and career, he has created and maintains the website Morrisseau.com to honour his mentor through the maintenance of an authentic record of Morrisseau's oeuvre. Ritchie Sinclair, as Stardreamer continues to feel the honour and responsibility of being the late Norval Morrisseau's only artistic apprentice of European extraction. Balancing the values of two cultures, Sinclair feels he belongs to neither one. His work is a hybrid, embracing the strengths of each culture in order to create works which give insight into the qualities of both. His art embraces of the whole family of humanity, while transcending borders and cultures. Sinclair's brilliantly coloured paintings exhibit sensually rich archetypes that resonate with a profound, yet simple message.
In 2007 McMichael Canadian collection honoured Sinclair by selecting him to be Artist in Residence and guest lecturer during the year. In recent years, a solo exhibition entitled "Spirit" took place at Scollard Street Gallery, Toronto and Sinclair joined Mark Anthony Jacobson and John Rombough in an exhibition to honour the 2010 Winter Solstice.
Recognized as a gifted educator, Sinclair was selected to be a facilitator and lecturer at the 2014 Aboriginal Conference in Vancouver. This was a mark of respect that is a tribute to his acceptance among the First Nations community. Beyond exhibiting his work for the public, Sinclair considers his most satisfying contribution to the world to be his work with young people. He often visits Toronto area schools to initiate co-creative art projects with children so that they may also learn to experience and express their own creative potential. He keenly feels his duty as artist/creator is to contribute his talents to make the world a better place and he hopes that his work will encourage others to do the same. In his own words, "My artistic effort is both my personal approach to Spirit and ideally a source of inspiration to others. The theme of my art is love."
Add Ritchie Sinclair to your Collector Profile
Want to get notifications or exclusive online offers for artwork by Ritchie Sinclair? Add them to your collector profile and let us know what you're looking for.