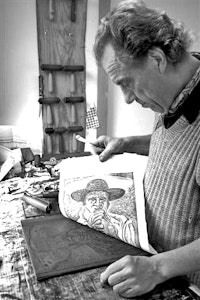 Richard Calver was born in Oxfordshire, England in 1946. He immigrated to Canada at the age of nineteen, settling in Quadra, B.C. An important turning point in his life came in the 1970s, when he met and studied under the well known printmaker, Sybil Andrews. A master of the lino-cut, Andrews inspired and encouraged the young Richard, who soon bought his own printmaking tools. His printmaking style blossomed and matured over the years under Sybil's mentorship. When Sybil Andrews died in 1992, Richard took over her classes.
Natural forms were the foundation of many of his most striking prints. As an avid gardener, botanical images, like "Thistle", "Dandelion", "Sun Flowers", and "Skunk Cabbage" represented some of his favourite subject matter. The effect of movement, achieved through the use of strong diagonals and undulating lines, was an integral component in all of his compositions.
Lino-cut prints are created through a laborious process. As each colour is printed individually, an image may be printed from as many as four or five blocks. Each block must be registered to align perfectly. The printing of one image (of which there may be an edition of fifty or sixty prints) can take as long as a day.
Richard built his own home and studio on Quadra Island, where he lived and worked until illness necessitated a move back to England to be near his family. He passed away there in January of 2021.
Add Richard Calver to your Collector Profile
Want to get notifications or exclusive online offers for artwork by Richard Calver? Add them to your collector profile and let us know what you're looking for.