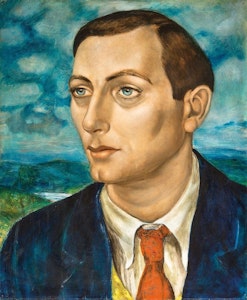 Randolph Hewton was born 1888, in Quebec. In 1903, he studied under William Brymner at the Art Association of Montreal (Now the Montreal Museum of Fine Arts). He won a scholarship to study in Paris at the Academie Julian from 1908 to 1910. It was there that he met A.Y. Jackson, who would become his lifelong friend. Back in Montreal, he and Jackson exhibited the Paris-inspired paintings in 1913 and received poor reviews. Both he and Jackson served overseas during WWI, and Hewton was awarded the Military Cross for bravery during the Somme offensive. Upon his return to Montreal, after the war, Hewton went to work for Miller Brothers, a firm which specialized in the production of paper boxes. In 1920, along with fellow graduates from the AAM, Edwin Holgate, Mabel May and Lilias Newton, he founded the Beaver Hall Group, named after their shared studio space at 305 Beaver Hall Hill. The Beaver Hall artists were invited to exhibit with the first Group of Seven exhibition in 1920. He juggled painting and career, becoming president of Miller Brothers in 1921, the same year he was elected an associate of the Royal Canadian Academy. His firm moved to Ontario in 1933. In Ontario, he went sketching with A.Y. Jackson and Albert Robinson. His greatest contribution as an artist was in the field of portraiture and figure painting. The Art Gallery of Hamilton held an exhibition of his work in 1947. Following Hewton's death at the age of 72 in 1960, Walter Klinkhoff Galleries held a retrospective exhibition in his honour and it was A.Y. Jackson who wrote the foreword for the exhibition catalogue.
Randolph S. Hewton Wanted for Purchase
Mayberry Fine Art and our clients are actively seeking works by artist Randolph S. Hewton for purchase or consignment. Contact us for confidential assistance when offering a work by Randolph S. Hewton for private sale.
Add Randolph S. Hewton to your Collector Profile
Want to get notifications or exclusive online offers for artwork by Randolph S. Hewton? Add them to your collector profile and let us know what you're looking for.