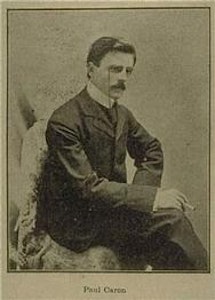 Paul Archibald Caron was born in Montreal in 1874. He studied under under William Brymner, Maurice Cullen and Edmond Dyonnet at the Art Association of Montreal. He worked in the stained glass industry for eleven years, making drawings for ornaments and figures and then as an illustrator for La Presse and the Montreal Star doing pen and ink drawings. Caron eventually turned to painting old buildings of Montreal and Quebec City and rural scenes in the Laurentians. Winterscapes were his specialty, and many were reproduced as cards. He exhibited at Royal Canadian Academy, the Ontario Society of Artists, the Art Association of Montreal and the Fine Arts Section of the Canadian National Exhibition. Caron won the Jessie Dow prize for watercolours in 1931 and again in 1937. He was a member of the Pen and Pencil Club, Montreal; The Arts and Letters Club, Montreal; The Canadian Society of Painters, Etchers and Engravers; The Canadian Society of Graphic Art and and the Royal Canadian Academy. His works are held in collections including the National Gallery and the Museum of the Province of Quebec.
Paul A. Caron Wanted for Purchase
Mayberry Fine Art and our clients are actively seeking works by artist Paul A. Caron for purchase or consignment. Contact us for confidential assistance when offering a work by Paul A. Caron for private sale.
Add Paul A. Caron to your Collector Profile
Want to get notifications or exclusive online offers for artwork by Paul A. Caron? Add them to your collector profile and let us know what you're looking for.