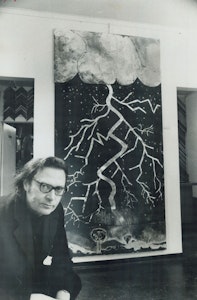 Paterson Ewen was born in 1925 in Montreal, Quebec. He attended McGill University from 1946-47 where he studied geology and fine arts. From 1948-50 he took classes at the School of Art and Design at the Montreal Museum of Fine Arts, studying under Goodridge Roberts, Arthur Lismer, William Armstron, and Jacques de Tonnancour. His earliest works of the late 1940s reveal a range of interests and, particularly, the influence of Goodridge Roberts. By the mid 1950s, he had begun a 16-year exploration of abstraction, at first with gestural and then, by 1964, with geometric forms loosely related to hard-edge painting. While in Montreal he was connected to the artists of the Automatiste movement, and became a member of the Non-Figurative Artists' Association of Montreal, founded in 1956. In 1968 Ewen moved to London, Ontario where he taught at the Visual Arts Department of the University of Western Ontario from 1972 to 1988. Ewen began a new stage in his artistic career in 1971 when his working method and imagery changed dramatically. He started working on plywood instead of canvas, using a router to gouge out powerful images of earthbound and celestial phenomena. Ewen's career was often fragmented by over-arching psychiatric problems and alcoholism. He suffered from severe manic depression and was plagued by poor mental health until his death in 2002. Despite these challenges, Ewen was able to produce an incredibly diverse and influential body of work. Paterson Ewen is represented in major museums and public galleries throughout Canada.
Paterson Ewen Wanted for Purchase
Mayberry Fine Art and our clients are actively seeking works by artist Paterson Ewen for purchase or consignment. Contact us for confidential assistance when offering a work by Paterson Ewen for private sale.
Add Paterson Ewen to your Collector Profile
Want to get notifications or exclusive online offers for artwork by Paterson Ewen? Add them to your collector profile and let us know what you're looking for.