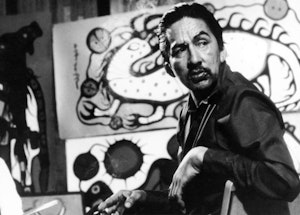 Born, 1931, at Sandy Point Reserve, Ontario. A member of the Royal Canadian Academy of Arts since 1970, Norval Morrisseau was the celebrated founder of the Woodland School, which revitalized Anishnabe iconography, traditionally incised on rocks and Midewiwin birchbark scrolls. A self-taught painter, printmaker, and illustrator, Morrisseau created an innovative vocabulary which was initially criticized in the Native community for its disclosure of traditional spiritual knowledge. His colourful, figurative images delineated with heavy black formlines and x-ray articulations, were characteristically signed with the syllabic spelling of Copper Thunderbird, the name Morrisseau's grandfather gave him. Morrisseau completed many commissions during his career including the mural for the Indians of Canada Pavilion at Expo '67. He was made a member of the Order of Canada in 1978 and, in 1980, received honourary doctorates from both McGill and McMaster Universities. In 1995 Morrisseau was honoured by the Assembly of First Nations.
Norval Morrisseau Wanted for Purchase
Mayberry Fine Art and our clients are actively seeking works by artist Norval Morrisseau for purchase or consignment. Contact us for confidential assistance when offering a work by Norval Morrisseau for private sale.
Add Norval Morrisseau to your Collector Profile
Want to get notifications or exclusive online offers for artwork by Norval Morrisseau? Add them to your collector profile and let us know what you're looking for.