Acrylic on Brown Kraft Paper
32 x 41 in
Please inquire regarding price
---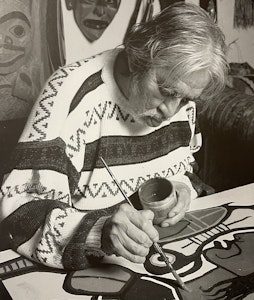 Norval Morrisseau's work is marked by bright colours, defining black lines, and the spelling of his shaman name, Copper Thunderbird. He is referred to by some as the mishomis, or grandfather in Ojibwe, of modern Indigenous Canadian art.
He was born in 1932 and grew up on the Sand Point Reserve in Ontario. As a child, he was forced to attend St Joseph's Indian Residential school, where he was abused. Memories from the school would go on to torment him throughout his life. He was a self-taught artist, completing his first sketches at 6 years old. Morrisseau left school at 10 years old. By 19, he became gravely ill and no doctors were able to help him. As a last resort, a shamanic renaming ritual was conducted- he would now be known as Copper Thunderbird. Morrisseau declared the ritual had breathed new life into him and he became strong again.
Through acquaintance with wealthy patrons, Morrisseau was encouraged to regard himself as a professional artist. In 1962, his life would be changed forever. A show of his work was displayed at the Pollock Gallery in 1962. He had been selling his paintings for 5 dollars when Jack Pollock recognized his genius and convinced Morrisseau to allow him to sell them in his gallery. The exhibition was the first to show an indigenous artist in a contemporary Canadian gallery. Every single painting was sold on the first day of the show. Almost overnight, Norval Morrisseau was catapulted into art world stardom. His work received mixed reviews. Some deemed him modern, others said his work was primitive. He quickly became a quasi-mythological figure, with the media casting him in the role of the 'Hollywood Indian'.
Morrisseau would often push back against this unjust stereotyping, and his disagreement would be characterized as ranting. On the other hand, Morrisseau has been criticized for playing up to the lore surrounding him. The Glenbow Foundation in Calgary bought 11 of his paintings in 1965, a serious sale that resulted in more shows and thus a reputation as a serious artist.
Morrisseau's vision and style remained clear throughout his career. His art intended to create change for indigenous people and artists in Canada. Instead of compromising his vision, he walked away from a commission for Expo 67 when his work was deemed too controversial for the Indians of Canada pavilion.
His colour palette remained vibrant throughout his career, rarely mixing paints and working quickly with his pigments. He forged a unique visual language that was shaped by Anishinaabe teachings, though he was criticized for sharing sacred wisdom in his paintings.
Alongside Daphne Odig, Norval Morrisseau founded the Professional Native Artists Inc (PNAI) which came to be known as the Indian Group of 7. Its aim was to promote and support indigenous artists throughout Canada and help shift the public's perception of them.
Morrisseau was plagued by Alcoholism and in 1973, he was imprisoned for public drunkenness. Morrisseau was prolific in the 6 months he spent in prison. After his stint in Kenora, Morrisseau got back to work. In 1977 he exhibited his chef d'oeuvre, Man Changing into Thunderbird, with the Pollock Gallery. The completion of the polyptych was down to the wire, with the final 2 panels finished mere hours before the show's debut.
Morrisseau was a complicated man and his mythology precedes him. Nevertheless, he is widely regarded as one of the finest Canadian painters to have ever lived and was hugely influential in the development of contemporary Canadian art. His work is found in museums and galleries across Canada and has received many awards over his career, such as the Centennial Medal. He was appointed to both the Royal Academy of Canadian Art and the Order of Canada and was honoured with a major retrospective at the National Gallery of Canada in 2006. Morrisseau was the first Indigenous artist to receive recognition from the Canadian art establishment.
After a long battle with Parkinson's disease, he died in 2007 in Toronto.
Norval Morrisseau Wanted for Purchase
Mayberry Fine Art and our clients are actively seeking works by artist Norval Morrisseau for purchase or consignment. Contact us for confidential assistance when offering a work by Norval Morrisseau for private sale.
Add Norval Morrisseau to your Collector Profile
Want to get notifications or exclusive online offers for artwork by Norval Morrisseau? Add them to your collector profile and let us know what you're looking for.