Oil on Canvas
30 x 48 in
Please inquire regarding price
---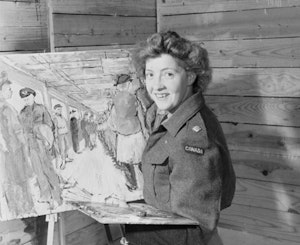 Painter, watercolourist, and printmaker, Molly Joan Lamb was born in Vancouver in 1922. Fresh out of art school, she joined the Canadian Women's Army Corps in 1942. Thus, she started her art career as the first Canadian woman to be sent overseas as an official war artist. It was the fulfillment of a long held ambition, to follow in the footsteps of her friend, A.Y. Jackson, who had been a war artist during the First World War.
Molly Lamb studied with Jack Shadbolt and Charles H. Scott at the Vancouver School of Art (1938-41). She served with the Canadian Women's Army Corps (1942-46), and as an official war-artist (1945-46). In '45, she married the artist, Bruno Bobak. She taught at the Vancouver School of Art from 1947 to 1950, then intermittently until 1960. She also taught at the Vancouver Art Gallery (1954-58), and the University of British Columbia (1958-60). In 1960, she moved with her family to Fredericton, where she taught at the University of New Brunswick Art Centre until 1977. In 1973, she became a member of the Royal Canadian Academy of Arts and in 1993, the Mackenzie Art Gallery in Regina organized a major touring retrospective of her work. Laura Brandon, director of research, exhibition and interpretation at the Canadian War Museum said of Bobak, "She had the unique ability to depict women's experiences".
Molly Lamb Bobak died on March 1, 2014 at the age of 94 at the Veterans Health Unit in Fredericton, New Brunswick.
Add Molly Lamb Bobak to your Collector Profile
Want to get notifications or exclusive online offers for artwork by Molly Lamb Bobak? Add them to your collector profile and let us know what you're looking for.