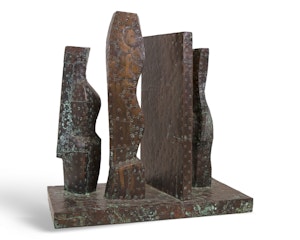 A native Californian, Melvin Schuler was born in 1924. He graduated from the California College of Arts and Crafts and began his esteemed teaching career in 1947 at Humboldt State University. Schuler passed away in 2012. He was Professor Emeritus when he died.
Schuler is best known for his large abstract sculptures using old growth redwood carved into abstract forms clad in copper and fastened with bronze nails.
Add Melvin Schuler to your Collector Profile
Want to get notifications or exclusive online offers for artwork by Melvin Schuler? Add them to your collector profile and let us know what you're looking for.