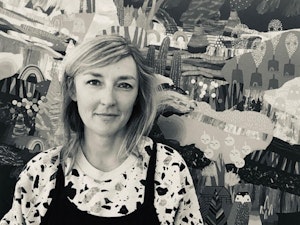 Meghan Hildebrand is originally from Whitehorse, Yukon. She went on to study art at the Kootenay School of Art in Nelson, BC, followed by studies at Nova Scotia College of Art and Design in Halifax, NS.
With dreamlike explorations of real and imagined landscapes, Meghan Hildebrand's paintings invite the viewer to get lost in worlds with few boundaries. The painting process is a key part of her work; colours and forms are built up intuitively, and the element of chance, through experimentation and spontaneous mark-making, lend raw energy to the paintings. These unexpected breakthroughs keep Hildebrand in a constant process of reinvention, and her work ever-changing.
The artworks in Meghan's current exhibition, "Ship in the Woods" are dominated by two symbols. According to the artist, the first is a technological achievement that broadened the reach and scope of the human species: the floating vessel capable of crossing vast oceans. The second, a site of wonder and mystery, abundant with natural resources and proliferating life: the wildernesses into which seafarers and assorted stragglers have ventured over the centuries. Yet what we find in these works is not a glorious evocation of the grand visions and triumphant conquests of the pioneers of human exploration. Instead, we enter a post-historical, post-human realm where the grand narratives of human history have long since vanished into the ocean of oblivion, leaving behind mere relics washed ashore, abandoned, or transformed into playthings for the same kind of miraculous beings populating Prospero's enchanted isle in Shakespeare's "The Tempest". (contributed by Gordon Young)
Meghan has had over forty solo shows, including a retrospective survey at the Yukon Arts Centre 2012 and a solo show in Manila, Philippines in 2020. Her work has been acquired by permanent collections including RBC, Aimia, and the Yukon Government and belongs to private collections internationally. She now resides in Powell River, BC.
Add Meghan Hildebrand to your Collector Profile
Want to get notifications or exclusive online offers for artwork by Meghan Hildebrand? Add them to your collector profile and let us know what you're looking for.