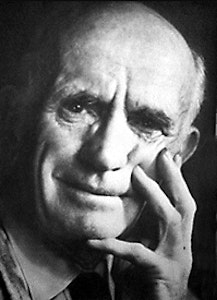 Manly MacDonald (1889 – 1971) was born in Point Anne near Belleville, Ontario, and studied at the Central Ontario School of Art and Industrial Design (Ontario College of Art), the Albright School of Art in Buffalo and the Boston Museum of Fine Arts. In 1917 he received a scholarship from the Royal Canadian Academy of Arts allowing him to travel and paint through Europe at the end of World War I. He was commissioned by the Canadian government to paint scenes that documented the war effort. Works from the Women in War Series are included in the collection of the Canadian War Museum. At this time he was elected member of the Ontario Society of Artists and made an Associate of the Royal Canadian Academy. By 1922, MacDonald was painting full time. He exhibited at the Tate Gallery in 1938 and the New York World's Fair in 1939. He completed two large winter murals for the Toronto Granite Club. MacDonald taught at the Royal Canadian Academy, Toronto and the Ontario College of Art (& Design) from 1943 to 1944. During these years, he returned to Belleville and Prince Edward County where he painted views of South Bay and Picton. In 1951 MacDonald resigned from OSA, after thirty years as a member, in protest over that society's emphasis on what MacDonald called "Modern art". Over four decades, MacDonald's work was included with other prominent artists in the Coutts and then Coutts-Hallmark Canada Christmas Card Series. MacDonald's work is included in major galleries across Canada, including the National Gallery of Canada and the Canadian War Museum. Her Majesty Queen Elizabeth II owns two of his paintings in the Royal Collection Enterprises.
Manly MacDonald Wanted for Purchase
Mayberry Fine Art and our clients are actively seeking works by artist Manly MacDonald for purchase or consignment. Contact us for confidential assistance when offering a work by Manly MacDonald for private sale.
Add Manly MacDonald to your Collector Profile
Want to get notifications or exclusive online offers for artwork by Manly MacDonald? Add them to your collector profile and let us know what you're looking for.