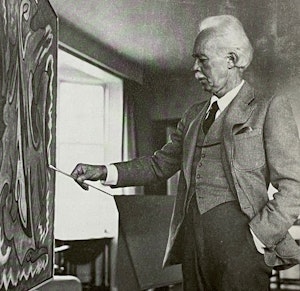 Lawren Harris was born in Brantford, Ontario and at the age of 19 went to Berlin for academic training. Upon returning to Ontario he met J.E.H. MacDonald who shared his vision of a new and distinctive way of depicting the Canadian landscape. Harris became the driving force behind the Group of Seven. A.Y. Jackson claimed: "Without Harris there would have been no Group of Seven. He provided the stimulus; it was he who encouraged us always to take the bolder course, to find new trails." By 1918 Lawren Harris had travelled to the Algoma region in the company of MacDonald and Johnston. Harris made his first trip to the North Shore of Lake Superior in 1921. His search for a deeper spiritual meaning eventually took him to the stark landscapes of the far north. By the late 1920s the artist's work strove to capture the spiritual essence of the bold landforms of the Rockies and the Arctic. Throughout the ensuing decade Harris continued to simplify and abstract his landscapes until his subjects became non-representational. Lawren Harris worked as a member of the Transcendental Group of Painters in Santa Fe, New Mexico for two years, returning to Canada in 1940 and settling in Vancouver for the remainder of his lifetime.
Lawren Harris Wanted for Purchase
Mayberry Fine Art and our clients are actively seeking works by artist Lawren Harris for purchase or consignment. Contact us for confidential assistance when offering a work by Lawren Harris for private sale.
Add Lawren Harris to your Collector Profile
Want to get notifications or exclusive online offers for artwork by Lawren Harris? Add them to your collector profile and let us know what you're looking for.