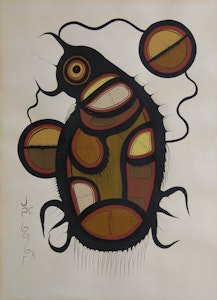 Born in 1952 in Sandy Lake, Josh Kakegamic enjoyed early and extensive contact with brother-in-law Norval Morrisseau and with Carl Ray. Josh Kakegamic studied with Ray and Morrisseau during their tour of northern reserves. Josh Kakegamic had his first group show in 1969 and presented a solo workshop at Fanshawe College. In 1973 Josh Kakegamic and his brothers Goyce and Henry started the Triple K Co-operative, a silkscreen operation based in Red Lake. By 1975 Josh Kakegamic was being shown at Aggregation Gallery in Toronto, which still handled Ray's work. While Josh Kakegamic's predecessors invented and refined the pictographic style, Josh Kakegamic was weaned on it, and rapidly perfected the vocabulary. He was a painter of technical virtuosity and an innovator in the field of Indian print production. Josh Kakegamic died tragically in 1993 while on a rescue mission.
Josh Kakegamic Wanted for Purchase
Mayberry Fine Art and our clients are actively seeking works by artist Josh Kakegamic for purchase or consignment. Contact us for confidential assistance when offering a work by Josh Kakegamic for private sale.
Add Josh Kakegamic to your Collector Profile
Want to get notifications or exclusive online offers for artwork by Josh Kakegamic? Add them to your collector profile and let us know what you're looking for.
Acrylic on Paper , circa 1972
30 x 18.5 in
Please inquire regarding price
---