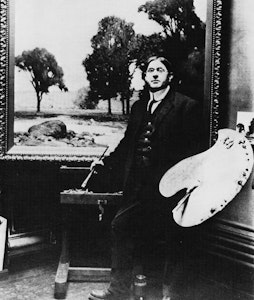 John William Beatty was born in Toronto. His early art training came from his father, a sign and house painter who passed along his knowledge of graphics. He left school early and found work at a local engraving firm. While still a teenager he joined the 10th Grenadiers as a bugler and served in this capacity in the Northwest Rebellion. Following his military service, he married and joined Toronto's newly formed Fire Department.
He had not lost sight of his childhood dream to become an artist, and used his spare time at the fire hall to paint portraits of his fellow firemen and to do still life paintings. He also sought out formal training from professional artists in the after hours. When he had saved enough money, he and his wife sailed for Paris where he planned to study at the Academie Julian. At the Academie, he studied under Jean Paul Laurens and Benjamin Constant and earned several awards for his figure drawing. After returning to Toronto in 1901, he opened a studio and began to teach at the Ontario School of Art and Design. He attended classes at the Mahlstick Club and became a member of the Graphic Arts Club.
He then returned to Europe where he continued studies at the Academie Julian and the Colarossi Academy. After further studies in London, and traveled around Europe to Holland, Belgium, Italy and Spain. The Barbizon School, based on the atmospheric paintings of John Constable, was a powerful influence all around Europe, and had its effect on Beatty as well. He returned to Toronto in 1909 and continued painting and teaching classes.
He was among the innovative Toronto artists who traveled to Northern Ontario to sketch via canoe. Starting in 1912 he went on regular sketching trips with Tom Thomson, J.E.H. MacDonald and A.Y. Jackson. He was offered a studio in the famed Studio Building, in Toronto's Rosedale Valley Ravine. He and A.Y. Jackson were both awarded a commission by the Canadian Northern Railway to paint in and around the construction camps as the railway was laid through the rocky mountains. Beatty carved the stonework for the memorial cairn erected to his friend, Tom Thomson at Canoe Lake.
He was appointed an official war artist this same year. He was a member of the Royal Canadian Academy, the Ontario Society of Artists, and served as president of the Arts and Letters Club. His works are in the National Gallery of Canada, the Art Gallery of Ontario, the McMichael Canadian Collection, Hart House at the University of Toronto, Queen's University Art Centre, the Canadian War Museum and elsewhere. (ref: A Dictionary of Canadian Artists by Colin MacDonald, Canadian Paperbacks Publishing Ltd, Ottawa, 1997)
John William Beatty Wanted for Purchase
Mayberry Fine Art and our clients are actively seeking works by artist John William Beatty for purchase or consignment. Contact us for confidential assistance when offering a work by John William Beatty for private sale.
Add John William Beatty to your Collector Profile
Want to get notifications or exclusive online offers for artwork by John William Beatty? Add them to your collector profile and let us know what you're looking for.