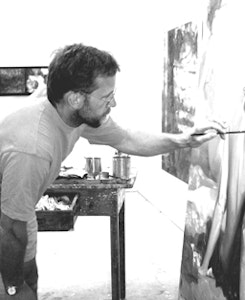 John Macdonald is an accomplished British Columbia artist whose large-scale oil on canvas works have been collected and exhibited nationally for over a decade. Informed by the traditional as well as the avant-garde, his work depicts figurative subjects engaged in an instinctual response to their environment, reinforced by the materiality of the painted surface. John Macdonald's paintings are landscapes and figures in landscapes implying in various forms our alienation and isolation in relation to our cultural environment and the displacement that is experienced. Other paintings deal with the encompassing of our environment: of its materialism and of unresolved interior and exterior conflicts that emerge. These paintings are metaphors for common experience reflecting certain aspects of the anxieties of our times. The work is enigmatic and open-ended, encouraging dialogue with the viewer that evokes a mix of responses.
Add John MacDonald to your Collector Profile
Want to get notifications or exclusive online offers for artwork by John MacDonald? Add them to your collector profile and let us know what you're looking for.