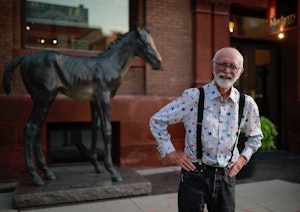 Nationally and internationally acclaimed artist Joe Fafard was born to French-Canadian parents in the small agricultural community of Ste. Marthe, Saskatchewan. He attended both the University of Manitoba (BFA 1966) and Pennsylvania State University (MFA 1968). He was at the University of Saskatchewan, Regina from 1968 to 1974 and visiting lecturer at the University of California at Davis in 1980 1981.
Fafard was one of Canada's leading professional visual artists and exhibited a wide variety of work across the country and around the world. He was recognized as being at the forefront of his art and he significantly raised the profile of both Saskatchewan and Canada on the international stage. He was named an Officer of the Order of Canada in 1981; received the Saskatchewan Order of Merit in 2002; received the National Prix Montfort in 2003; and in 2005, the Lieutenant Governor's Saskatchewan Centennial Medal for the Arts.
In the early 1970s much of his sculpture used clay as a medium. In 1985 he shifted to bronze as his chief sculptural medium, successfully establishing a foundry in Pense. His insight and humour characterized his portraits of neighbours, farm animals, and famous artists that he came to respect as he learned his craft.
Joe Fafard Wanted for Purchase
Mayberry Fine Art and our clients are actively seeking works by artist Joe Fafard for purchase or consignment. Contact us for confidential assistance when offering a work by Joe Fafard for private sale.
Add Joe Fafard to your Collector Profile
Want to get notifications or exclusive online offers for artwork by Joe Fafard? Add them to your collector profile and let us know what you're looking for.