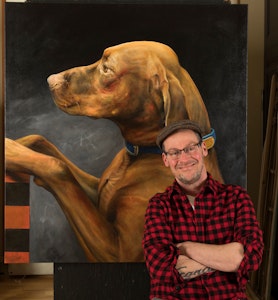 Joe Coffey was born in 1966 and grew up in Caledon, Ontario– a rural enclave just outside of Toronto where four generations of his family had farmed before his arrival. His earliest memories include drawing and painting the people and animals that surrounded him. Coffey continues to be inspired by the subjects and objects around him. Drama informs Coffey's work– he fixes his subjects in a static or dynamic tension while striking to portray a "sculpted expressiveness" in his paintings. His paintings can be found in private and corporate collections in Canada, the United States, France, Switzerland, Greece, and the United Kingdom. He currently lives and works from his studio in Victoria, BC, Canada.
Add Joe Coffey to your Collector Profile
Want to get notifications or exclusive online offers for artwork by Joe Coffey? Add them to your collector profile and let us know what you're looking for.