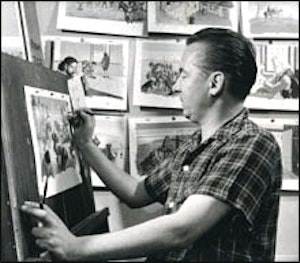 Jean-Philippe Dallaire, the painter, illustrator and professor was born at Hull, Quebec on June 9, 1916. He was raised in a working-class family of 15, and started drawing at age 11. Though he attended various art classes, he was mostly self-taught in his early years. In October 1938, with the support of a Quebec government grant, Dallaire went to Paris, where he attended the Atelier d'art sacra, the Lhote studio and worked in his Montmartre studio. He became familiar with the work of Picasso and the surrealists and met Alfred Pellan. During World War Two, while under the German occupation in France he was a prisoner at St-Denis. On his return to Canada, he taught painting at the à cole des beaux-arts in Quebec City. He later worked for the National Film Board in Ottawa illustrating animated films. He then lived and painted in Montréal from 1957 to 1959. In '59 he moved to Europe permanently. He died of heart failure in 1965, thus ending prematurely a brilliant career. Dallaire's works show varied stylistic influences and are always recognized by their draftsmanship and spontaneity in subject and use of colour.
Ref: www.thecanadianencyclopedia.com
Jean Phillipe Dallaire Wanted for Purchase
Mayberry Fine Art and our clients are actively seeking works by artist Jean Phillipe Dallaire for purchase or consignment. Contact us for confidential assistance when offering a work by Jean Phillipe Dallaire for private sale.
Add Jean Phillipe Dallaire to your Collector Profile
Want to get notifications or exclusive online offers for artwork by Jean Phillipe Dallaire? Add them to your collector profile and let us know what you're looking for.