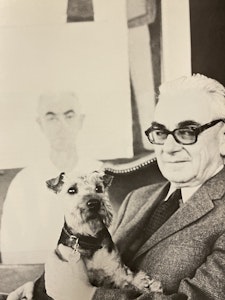 Born in Quebec City, Jean Paul Lemieux began his professional training at the l'Ecole des Beaux Arts in Montreal. He studied under Edwin Holgate who was an important influence in the development of his early style. Lemieux continued his studies in Paris where he met Clarence Gagnon. He became professor of art at l'Ecole des Beaux Arts and then later at Ecole Meuble. He painted in a realistic, decorative style until the early 1940s at which time his works became distinguished by a more simplified form. Although he did not consider himself a landscape painter, his figures were often portrayed in a landscape setting. He became a member of the Royal Canadian Academy in 1956 and received the Order of Canada in 1968.
Jean Paul Lemieux Wanted for Purchase
Mayberry Fine Art and our clients are actively seeking works by artist Jean Paul Lemieux for purchase or consignment. Contact us for confidential assistance when offering a work by Jean Paul Lemieux for private sale.
Add Jean Paul Lemieux to your Collector Profile
Want to get notifications or exclusive online offers for artwork by Jean Paul Lemieux? Add them to your collector profile and let us know what you're looking for.