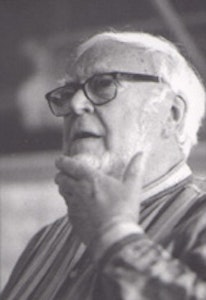 Jean McEwen was born in Montreal in 1923. While growing up he was intrigued by painting and the qualities of colour but did not pursue any formal art training. Instead he studied Pharmacy at the University of Montreal in 1951. After seeing the film The Moon and Sixpence based on the Somerset Maughan novel about the life and work of Paul Gaugin he was influenced to pursue painting while completing his Pharmacy degree. A painting that he submitted to the 66th Annual Spring Salon at the Montreal Museum of Fine Art was accepted, after which a friendship with Paul-Emile Borduas began. Borduas encouraged him to travel to Paris. He spent three years in Paris where he formed associations with Jean-Paul Riopelle and American artist Sam Francis. His long and successful career includes a teaching position at Concordia University, Montreal as well as numerous solo exhibitions. His work is a part of public and private collections including the National Gallery of Canada, Ottawa and the Museum of Modern Art, New York.
Jean McEwen Wanted for Purchase
Mayberry Fine Art and our clients are actively seeking works by artist Jean McEwen for purchase or consignment. Contact us for confidential assistance when offering a work by Jean McEwen for private sale.
Add Jean McEwen to your Collector Profile
Want to get notifications or exclusive online offers for artwork by Jean McEwen? Add them to your collector profile and let us know what you're looking for.