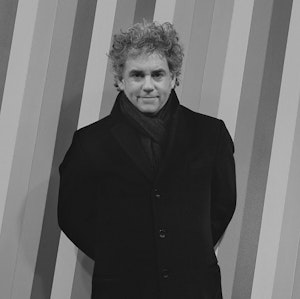 James Lahey is a Canadian artist living in Toronto where he maintains his studio. He completed his BFA at York University in 1984 with studies in Art and Architecture in Italy (1982) through a joint programme with York University, Toronto and Lowell University, Massachusetts.
In 1986 he obtained a certificate from the O.M.A. in the preservation of Art and Artefacts. Upon graduation, James negotiated career and vocation, including positions at The Art Gallery at Harbourfront, The Power Plant, The Art Gallery of Ontario and Bruce Mau Design. Since 1998 James has concentrated exclusively on his painting practice.
In 2001 James was elected to the Royal Canadian Academy. James has been a Member of the Board of Directors at the Power Plant Contemporary Art Gallery in Toronto 2009 through to 2012, and a past Member of the Board of Directors for Dancemakers. Currently, James is a Member of the Acquisitions Committee for the Photography Drawings Department of the Art Gallery of Ontario, a past member of the Acquisitions Committee for Prints and Drawings at The Art Gallery of Ontario, and a current member the Advisory Board of PEN Canada.
James is represented in galleries across Canada, in Britain and the United States where his work can be found in numerous private and public collections.
In 2005 the MacLaren Museum installed his "Index" exhibition and published a catalogue of the same name with contributions by Ihor Holubizky and Mark Kingwell. In 2007 "Index" was installed at The University of Toronto Art Centre. In 2008 James opened one person shows in New York and London where "your imperfect history" was published in conjunction with the exhibition by Flowers U.K. His project, "Guido's Rhombus" opened at Museum London in the fall of 2009. A catalogue co-written by Ihor Holubizky, Curator of Contemporary Art at Museum London and Dennis Reid, Chief Curator at the Art Gallery of Ontario accompanied the exhibition.
In 2011 "Eight Days" opened at the Nicholas Metivier Gallery.
A publication produced in collaboration with Toronto writer and poet Lynn Crosbie accompanied that exhibition. James' most recent exhibition "Photographs" took place in spring 2013 with a foreword to the exhibition provided by Ed Burtynsky.
Add James Lahey to your Collector Profile
Want to get notifications or exclusive online offers for artwork by James Lahey? Add them to your collector profile and let us know what you're looking for.