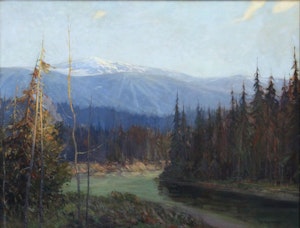 James Henderson, born on August 21, 1871 in Glasgow, Scotland. He enjoyed sketching and drawing from an
early age. He began an apprenticeship in lithography when he was 16 years old (1887-1894) while taking evening
classes at the Glasgow School of Art. While in Glasgow, he was influenced by the Scottish school of Impressionistism, which was popular t the time. He later worked in London as a commercial artist, lithographer, and
engraver (1894-1909) and in 1910, immigrated to Canada. Henderson worked briefly as a lithographic artist in
Winnipeg before moving to Regina, Saskatchewan and then to nearby Fort Qu'Appelle in 1916.
When his career was at its peak, Henderson was widely known as a painter of First Nations portraits, expressive
of innate dignity. He exhibited portraits at the 1924 and 1925 British Empire Exhibitions at Wembley, the same
venues where Canada's acclaimed Group of Seven first achieved international recognition. Fort Qu'Appelle's
Standing Buffalo Reserve named Henderson as Honorary Chief Wicite Owapi Wicasa, "the man who paints the old men."
Henderson is justly remembered for his artistic mastery of the landscape, particularly in the region of his beloved Qu'Appelle Valley, capturing it in all its moods and seasons—spanning all times of day and night. He also painted landscapes in British Columbia, Alberta, and Ontario's Muskoka Lakes region. A career highlight was the acquisition by the National Gallery of Canada of one portrait and two landscapes from 1928 to 1932. Henderson was a Member of the Ontario Society of Artists and exhibited in Ontario at the National Gallery 1927, 1928, 1930, 1936), the Montreal Museum of Fine Arts (1931, 1932, 1936), and in Alberta, Winnipeg, and London, England. He exhibited portraits at the
British Empire Exhibitions at Wembley in 1924 and 1925, and with the Royal Canadian Academy in 1936.
Henderson's work is represented in the collections of the National Gallery of Canada (Ottawa), MacKenzie Art Gallery (Regina), Mendel Art Gallery (Saskatoon), Edmonton Art Gallery, Calgary Public Library, University of Saskatchewan, and Glenbow Museum (Calgary), among others. In the annals of Saskatchewan art history, Henderson was the first to make a living solely from creating art, without depending upon teaching income, and he was the first to gain national and international recognition. For his achievements, he received an honorary Doctor of Laws degree from the University of Saskatchewan in 1951. Henderson died on July 5, 1951, in Regina, and was buried overlooking the valley at Fort Qu'Appelle.
James Henderson Wanted for Purchase
Mayberry Fine Art and our clients are actively seeking works by artist James Henderson for purchase or consignment. Contact us for confidential assistance when offering a work by James Henderson for private sale.
Add James Henderson to your Collector Profile
Want to get notifications or exclusive online offers for artwork by James Henderson? Add them to your collector profile and let us know what you're looking for.