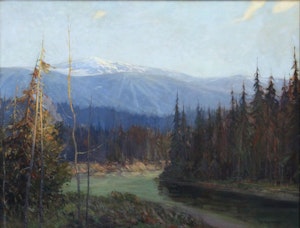 Born in Scotland in 1871, James Henderson came to Canada in 1909 following work as a lithographer and engraver in London. He found a home in Fort Qu'Appelle, Saskatchewan in 1916, being drawn there by the artistic appeal of the Qu'Appelle Valley. His landscape paintings, which depicted all seasons, most often featured the Valley but also included scenery from British Columbia, Alberta, and the Muskoka Lakes region of Ontario. Henderson was also widely known for his First Nations portraits representing the solemn dignity of what he, like other painters of his era, considered to be a vanishing race. The Sioux at Fort Qu'Appelle's Standing Buffalo Reserve recognized him by naming him an honorary chief, giving him the name Wicite Owapi Wicasa or "Man Who Paints Old Men".
James Henderson Wanted for Purchase
Mayberry Fine Art and our clients are actively seeking works by artist James Henderson for purchase or consignment. Contact us for confidential assistance when offering a work by James Henderson for private sale.
Add James Henderson to your Collector Profile
Want to get notifications or exclusive online offers for artwork by James Henderson? Add them to your collector profile and let us know what you're looking for.