Oil and Acrylic on Canvas
30 x 40 in
Sold
---
Oil and acrylic on panel
72 x 84 in
Sold
---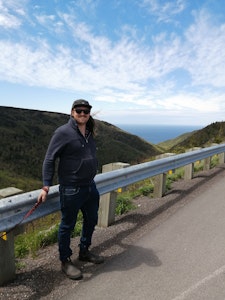 Artist Statement:
My paintings have had a recurrent subject matter of driving for some time now, but these recent works have also become autobiographical. Influenced by years of my wife, dog and I regularly traveling the highway back and forth between Halifax NS and Saint John NB. Drawing from memories of my personal experience and by also channeling some favorite music for inspiration, these paintings have become like psychological self-portraits, where colour becomes transcendent; the paint carving light and space into abstraction.
While this work has a more personal sentiment than what I've made in the past, the appropriated song lyrics which I've titled the works create a pop culture reference that frames the paintings into a conceptual narrative; giving a level of atmosphere to the work and inclusivity to the viewer. I like to think about the paintings like tracks of music from a personal playlist you would listen to while coasting down the highway on a road trip.
Jack Bishop 2021
Add Jack Bishop to your Collector Profile
Want to get notifications or exclusive online offers for artwork by Jack Bishop? Add them to your collector profile and let us know what you're looking for.
Oil and Acrylic on Canvas
30 x 40 in
Sold
---