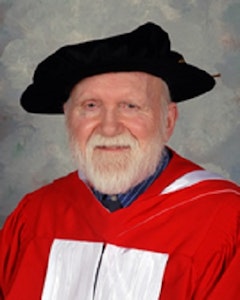 Ivan Kenneth Eyre was born in Tullymet, Saskatchewan in 1935. At the Saskatoon Technical Collegiate he studied under Ernest Lindner, followed by studies at the University of Saskatchewan under Eli Bornstein in 1952. At the University of Manitoba School of Art he studied under several noted teachers graduating in 1957 with a Bachelor of Fine Arts. In 1958-59 he attended the University of North Dakota in Grand Forks where he also taught. He subsequently returned to Canada and took a teaching job at the University of Manitoba where he was appointed Full Professor (painting and drawing) and where he stayed until his retirement in 1993. In 1966-67 he traveled in England and Europe where he was able to sell most of his paintings to private collectors. His works were inspired by the Symbolist philosophy of following subjective recollection and reaction rather than the Realist-Impressionist technique of objective observation-based painting. He is very much part of the artistic scene of the Prairies where he has lived most of his life. Eyre is also known for his graphite, crayon studies, and woodcuts. Among his many honours, he was elected member of the Royal Canadian Academy in 1974, received the Queen's Silver Jubilee medal in 1977, the University of Manitoba Alumni Jubilee Award in 1982, and was the subject of several films and books. He has held solo exhibitions from 1962 to the present and participated in many group shows. His works hang in numerous private and public collections in Canada and abroad. Winnipeg is the home to the Pavilion Gallery which houses the largest permanent of Eyre's paintings representing 170 works on canvas and over 5000 drawings. Ivan Eyre lives and works in Winnipeg, Manitoba.
Ivan Eyre Wanted for Purchase
Mayberry Fine Art and our clients are actively seeking works by artist Ivan Eyre for purchase or consignment. Contact us for confidential assistance when offering a work by Ivan Eyre for private sale.
Add Ivan Eyre to your Collector Profile
Want to get notifications or exclusive online offers for artwork by Ivan Eyre? Add them to your collector profile and let us know what you're looking for.