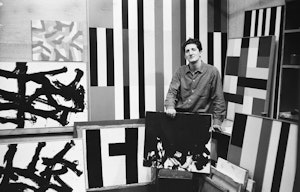 Guido Molinari was born in Montreal in 1933. He studied briefly at the School of Design at the Montreal Museum of Fine Arts (1950-51), and began making drawings and paintings combining automatic methods with a disciplined approach. He was a leader in the development of a rigorous colour abstraction movement in Montreal. Characteristic of his paintings in the 1960s were vertical, hard-edged bands of colour. Pictorial space in these paintings was created by the spectator's perception of the shifting and mixing of colours. In 1956 Molinari was a founding member of the Association des Artistes Non-Figuratifs de Montreal. He exhibited at the Biennale in Venice in 1968, where he was awarded the David E. Bright Foundation prize. In 1977 he participated in the Paris Biennale, and in 1980 he was awarded the Paul-Emile Borduas Prize by the Quebec government. Molinari, who taught at Concordia University until 1997, exerted a powerful influence on younger artists, through his teaching, his theoretical writing and his opinions, firmly held and strongly stated.
Guido Molinari Wanted for Purchase
Mayberry Fine Art and our clients are actively seeking works by artist Guido Molinari for purchase or consignment. Contact us for confidential assistance when offering a work by Guido Molinari for private sale.
Add Guido Molinari to your Collector Profile
Want to get notifications or exclusive online offers for artwork by Guido Molinari? Add them to your collector profile and let us know what you're looking for.