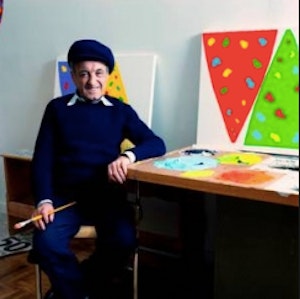 Gershon Iskowitz was born in Kielce, Poland, in 1921. Although he demonstrated a keen interest in the visual arts at a very young age, he received no formal training during his youth. With the outbreak of World War II, his dreams of studying fine art at the Warsaw Academy were never realized. After surviving nearly six years of internment, during which he continued to sketch secretly, his youthful vision bears witness to the brutality of daily life in the concentration camps and the horrors of the Holocaust. It was not until after the war that he received his first formal art training at the Munich Academy in 1947. In 1949, Iskowitz immigrated to Toronto. Over the next decade, his artistic vision would evolve from the depiction of bleak images of horrific wartime memories into a new and optimistic expression of his experience in the country. Gradually, the artist's description of the painful events of his past was transformed into a dynamic representation of the present through landscape. Iskowitz's unique and personal perception of the Canadian landscape found its expression in an exuberant and joyful use of colour and light. Beginning in 1964, Iskowitz exhibited his work regularly at Toronto's Gallery Moos. From 1967-70, he taught at the New School in Toronto, during which time his Spadina Avenue studio was a popular place to visit amongst young artists. The artist received national recognition in 1972, when he was one of two artists chosen to represent Canada at the XXXVI Venice Biennial. An Iskowitz retrospective was held in 1984 at the Art Gallery of Ontario, which traveled throughout Canada, as well as to Canada House in London, England. Each year, the Gershon Iskowitz Foundation, established by the artist in 1985 in association with the Canada Council, awards the Gershon Iskowtiz Prize – one of the most important visual arts awards in Canada.
Gershon Iskowitz Wanted for Purchase
Mayberry Fine Art and our clients are actively seeking works by artist Gershon Iskowitz for purchase or consignment. Contact us for confidential assistance when offering a work by Gershon Iskowitz for private sale.
Add Gershon Iskowitz to your Collector Profile
Want to get notifications or exclusive online offers for artwork by Gershon Iskowitz? Add them to your collector profile and let us know what you're looking for.