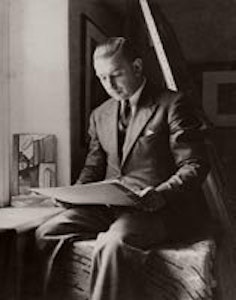 Born in Danzig, (then Germany), in 1896, Fritz Brandtner was conscripted into the German Army in 1915. He spent most of the war as a prisoner of war, in France. After World War One, he returned to Germany, and studied art at the University of Danzig where he taught life drawing in the Architecture Department. During this period, he became greatly interested in the work of the German Expressionists, such as Kirchner and Kandinsky, whose works he studied at the Danzig Civic Gallery. He immigrated to Canada in 1928 and settled in Winnipeg. It was very difficult for an artist to make a living during this period, so he was forced to do odd jobs before landing a position at Brigden's as a commercial artist and designer. There he met and became friends with Lemoine Fitzgerald. It was Brandtner who introduced Fitzgerald to Modernism and the work of the German Expressionists. Brandtner found that he had a great deal of trouble having his style of work recognized by members of the Winnipeg art scene. Fitzgerald suggested that he would be more successful in a cosmopolitan centre, like Montreal. Before leaving Winnipeg for Montreal, the Winnipeg School of Art held a farewell exhibition of 150 of Brandtner's works. Brandtner arrived in Montreal in 1934, with an introduction from Fitzgerald to the Montreal art critic, Robert Ayre. Ayre, in turn, introduced him around to other Montreal artists. At an exhibition of his works in 1936, Brandtner met Dr. Norman Bethune. Through Bethune, Brandtner became involved in the Children's Art Centre and the art program for crippled children at the Children's Memorial Hospital. Brandtner juggled his art education endeavors, with his own studio time. He painted in oils and watercolour, but also carved linoleum, which he then painted. He worked in a limited palette of blacks, reds and blues. Carving images into linoleum worked for him because, in his words, "linoleum calls up ideas that lead us away from pure representation and towards the abstract." According to Louis Muhlstock, "The key to Brandtner's success…is the underlying structure of their semi-abstract design." Brandtner was a champion of modern art in Canada and his work is represented in the collections of the National Gallery of Canada, the Art Gallery of Ontario, the Vancouver Art Gallery, and the Muse de Quebec City. Brandtner passed away at the age of 73 in 1969.
Fritz Brandtner Wanted for Purchase
Mayberry Fine Art and our clients are actively seeking works by artist Fritz Brandtner for purchase or consignment. Contact us for confidential assistance when offering a work by Fritz Brandtner for private sale.
Add Fritz Brandtner to your Collector Profile
Want to get notifications or exclusive online offers for artwork by Fritz Brandtner? Add them to your collector profile and let us know what you're looking for.