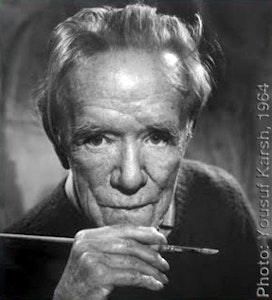 Born in Sheffield, England, Frederick Varley went to Antwerp as a young man to study art at the Academie Royale des Beaux-Arts and then returned to London, England to work as an illustrator. In 1912 he came to Toronto, Canada where he formed a friendship with Arthur Lismer. Lismer introduced Varley to fellow artists who spent their weekends painting outside of the city. They tried to convince Varley that the most challenging and inspiring subject matter was the Canadian Landscape. Varley, who was more interested in portraiture, took a while to warm to the lure of the landscape, which he eventually did. His best work, however, continued to be his portrait and figure work into which he incorporated the landscape. In 1926 he accepted a teaching position at the Vancouver School of Art and stayed in British Columbia until 1936 when he returned to Eastern Canada to continue his career as an artist with some teaching to help his finances. Varley was an avid reader of philosophy, in particular the writings of Chinese writers. These writings, along with his own observations, influenced his approach to colour and subject matter. He felt "colour vibrations", as he expressed it, "emanating from the object portrayed". His personal use of colour became a trademark of his paintings and one that is still used by so many artists today, such was the lasting influence of his work.
Frederick Varley Wanted for Purchase
Mayberry Fine Art and our clients are actively seeking works by artist Frederick Varley for purchase or consignment. Contact us for confidential assistance when offering a work by Frederick Varley for private sale.
Add Frederick Varley to your Collector Profile
Want to get notifications or exclusive online offers for artwork by Frederick Varley? Add them to your collector profile and let us know what you're looking for.