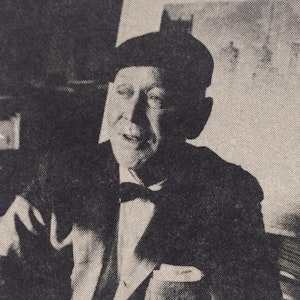 Artist Frank T M Beatty was born in 1899 and enjoyed a long and varied career. He received his art training in Winnipeg, Canada, and then in Chicago. He moved to Chicago, joining the art staff of Popular Mechanics in 1931, where he led the group as Art Director for twenty years. Upon his retirement in 1961, he devoted his full time to painting and sketching in oil, pastel and pencil, with occasional commercial art commissions.
Beatty exhibited at the Art Institute of Chicago and Winnipeg Galleries, had solo shows at many galleries in and around Chicago and won many awards. His work is included in a number of private collections. He was a member of the Artists Guild of Chicago, the Salmagundi Club in New York City, the North Shore Art Group of East Gloucester, the Canadian Club, the Chicago Art Club, the Northwest Art League, and a member and President of the Palette and Chisel Academy.
He traveled throughout the sixties to paint on location in far-flung localities. The amazing list of destinations include New York, northeast to Cape Ann, Bar Harbor and Quebec, northwest to San Francisco, Seattle, Vancouver and Victoria, southwest to Texas, Acapulco and Mexico City, and south to Bermuda, Nassau, Palm Beach, Key West, and Jupiter, Florida. Overseas destinations were London, Paris, Rome and Lucerne. Frank Beatty died in 1984 at the age of 85, having seen and painted much of the world
Add Frank Beatty to your Collector Profile
Want to get notifications or exclusive online offers for artwork by Frank Beatty? Add them to your collector profile and let us know what you're looking for.