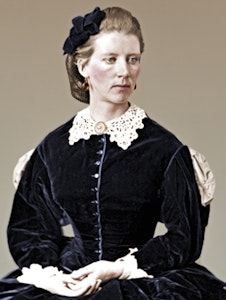 Frances Anne (Beechey) Hopkins was born in England, the daughter of Rear Admiral F.W. Beechey and the grand daughter of Sir William Beechey RA, a highly respected portrait artist. In 1858 she married Edward Martin Hopkins, a world traveller. Her husband was a widower and had three sons, to whom Frances Anne became very devoted. The couple eventually had five children of their own, three of whom survived. Directly after the marriage, the family travelled to Canada where Edward had a home and was secretary to Sir George Simpson of the Hudson's Bay Company. His duty to oversee the company's holdings required him to travel often and she accompanied him on his journeys. The children were cared for in their Canadian home and did not accompany their parents. She was one of very few white women to venture west by canoe. With sketchbook and watercolours in hand, Frances Anne Hopkins made an exceptional record of their travels, compiling a remarkable series of paintings of the voyageur. She was on hand to capture what was to be the end of an era. She sketched in oils and watercolours and her Canadian sketch books later became the property of the Public Archives of Canada as did her exceptionally fine and detailed Canadian canvases. Most of her work was untitled and signed with her initials, F.A.H. Many of her voyageur paintings were believed to have been done during her trip with the Red River expedition of 1870 headed by Col. G.J. Wolseley, where she was the sole woman amongst the company. Grace Lee Nute in her well documented and illustrated article on the artist for The Beaver described one of her paintings as follows, "One very appealing picture, which has been reproduced many times, shows a typical bark canoe, beautifully decorated in bow and stern, manned by eight voyageurs, passing the foot of a great shoulder of rock, down which runs a rill in successive waterfalls. A few spruces or balsams can be glimpsed above the rock. White water-lilies are attracting the attention of Mrs. Hopkins, for whom a voyageur is picking lilies, while Hopkins looks on, smoking his pipe. The whole conception of the picture is faithful to reality, yet most artistic. Even the reflection of the canoe and its occupants in the clear waters of some northern lake is perfection itself." The Hopkins returned to England sometime after 1870, upon Edward's retirement from the HBC. Based on her Canadian experience, Frances Anne went on to make a career as an artist in England, exhibiting at the Royal Academy. After her husband's death in 1894 she lived and worked at her home/studio in Hamstead until her own death in 1919.
Frances Anne Hopkins Wanted for Purchase
Mayberry Fine Art and our clients are actively seeking works by artist Frances Anne Hopkins for purchase or consignment. Contact us for confidential assistance when offering a work by Frances Anne Hopkins for private sale.
Add Frances Anne Hopkins to your Collector Profile
Want to get notifications or exclusive online offers for artwork by Frances Anne Hopkins? Add them to your collector profile and let us know what you're looking for.