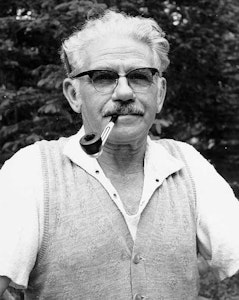 Born in Vienna Austria. As a young man, he served with the Austrian Air Force and was wounded in an air crash in the First World War. He was employed as a designer with his family's business, which produced luxury articles. He immigrated to Canada in 1926 and settled in Saskatoon. There, he studied art under Augustus Kenderdine and attended night classes in art at the Technical Collegiate. In 1936 he became art instructor and head of the art department at the Technical Collegiate. In the early thirties he submitted paintings to various exhibitions with both the Art Association of Montreal and the Royal Canadian Academy of Arts. His work was well received. Working in watercolour, oils and tempera, he sensitively portrayed figures, interiors and landscapes. His best known works are forest interior scenes. He depicted decaying tree stumps and vegetation with startling detail. He also did wood carvings and copper relief works, but is best known for his paintings. His work is represented in fine public collections such as the Academy of Applied Art, Vienna, Austria, Grand Central Galleries, NYC, the Royal Ontario Museum, and the Art Gallery of Ontario
Ernest Lindner Wanted for Purchase
Mayberry Fine Art and our clients are actively seeking works by artist Ernest Lindner for purchase or consignment. Contact us for confidential assistance when offering a work by Ernest Lindner for private sale.
Add Ernest Lindner to your Collector Profile
Want to get notifications or exclusive online offers for artwork by Ernest Lindner? Add them to your collector profile and let us know what you're looking for.