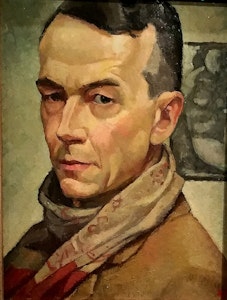 Edwin Holgate was born in Allandale, Ontario. Holgate began his art education at the Art Association of Montreal studying under William Brymner who was also A.Y. Jackson's teacher. In 1920,some of the Brymner graduates found a large building on Beaver Hall Hill in Montreal that could serve for a number of studios. Over the years Holgate continued to be involved with the Beaver Hall Hill group. Holgate continued his studies in Paris, returning to Canada at the outbreak of World War I. After the War, the artist returned to Paris with his new bride and remained there until 1922 when they returned to Montreal. Having studied figure painting in France, Holgate began a series of nudes in northern landscapes. Holgate was instrumental in the founding of the Canadian Society of Graphic Artists in 1925 and it was as a graphic artist that he first began to attract wide attention. Asked to join the Group in 1930, Holgate had by then established a reputation for his figure paintings and West Coast and Laurentian landscapes.
Edwin Holgate Wanted for Purchase
Mayberry Fine Art and our clients are actively seeking works by artist Edwin Holgate for purchase or consignment. Contact us for confidential assistance when offering a work by Edwin Holgate for private sale.
Add Edwin Holgate to your Collector Profile
Want to get notifications or exclusive online offers for artwork by Edwin Holgate? Add them to your collector profile and let us know what you're looking for.