Oil on Canvas
38 x 51 in
Please inquire regarding availablity
---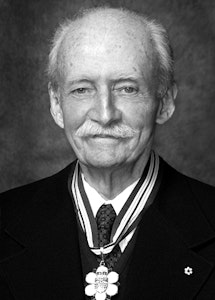 Born in Winnipeg in 1973, Simon Hughes holds a BFA from the University of Manitoba (1996) and a MFA from the University of California, Irvine (2010). His art practice encompasses painting, drawing, and video. Since 2000, he has worked almost exclusively on paper using watercolour and collage. His "Northern" series of narrative works explore regionalism and common stereotypes of Canada's arctic region. They illustrate his fascination with the Canadian abstract canon and its interaction with visual culture. A Critical Modernist at heart, Simon Hughes' abstracts and quasi-architectural renderings create fantastical Canadian scenarios while indulging his interest in childhood pursuits. Referencing Lego bricks and stickers, he uses his notable watercolour expertise to envision hypothetical architecture and invent an imaginary urban history. The resulting paintings engage in a critical dialogue on contemporary Canadian communities. Hughes' large, multi-paneled watercolour installations have been included in exhibitions at the National Gallery of Canada, the Confederation Centre for the Arts, Plug In ICA and the Winnipeg Art Gallery. His video work has been exhibited at museums and film festivals worldwide, most recently at the Sweeney Art Gallery at the University of California, in Riverside.
Edward John Hughes Wanted for Purchase
Mayberry Fine Art and our clients are actively seeking works by artist Edward John Hughes for purchase or consignment. Contact us for confidential assistance when offering a work by Edward John Hughes for private sale.
Add Edward John Hughes to your Collector Profile
Want to get notifications or exclusive online offers for artwork by Edward John Hughes? Add them to your collector profile and let us know what you're looking for.