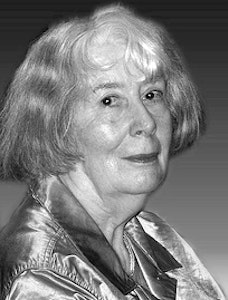 Dorothy Elsie Knowles was born on April 7, 1927 in Unity, Saskatchewan. She grew up on a farm overlooking a Prairie valley and initially had no plans to become a painter, studying biology at the University of Saskatchewan in Saskatoon between 1944 and 1948. At the time of her graduation, a friend persuaded her to enroll in a six-week summer course given by the University of Saskatchewan at Emma Lake. The course was led by Reta Cowley from Saskatoon and James Frederick Finley from the Ontario College of Art and under their guidance young Dorothy found a proclivity for art. Upon her return to Saskatoon she continued to study painting under Eli Bornstein and Nicholas Bjelejac at the University of Saskatchewan between 1948 and 1952. While taking a summer class at the Banff School in 1952, she decided to study art in England, eventually enrolling in the Goldsmith School of Art in London. Of influence on her was another London institution, the National Gallery, where she particularly admired the works of Piero di Cosimo, Piero della Francesca, Veronese, Ucello, and Renoir. In the 1960's, when artist's and critics workshops were de rigueur, she attended workshop by the American painter Herman Cherry (1961), the critic Clement Greenberg (1962), Kenneth Noland (1963), Jules Olitski (1964), Lawrence Alloway (1965), and Michael Steiner (1969). All of these had varying degrees of influence on her work, changing her style from a heavy impasto favoured by Greenberg to a more fluid technique preferred by Noland. Most importantly she discovered the importance of working directly from nature. Thus, weather permitting , she worked out of doors, at times producing finished paintings, at times sketches and photographs which she used in the studio. However, her technique was fundamentally different from that employed most visibly by the Group of Seven. While the studio works by members of the Group differ drastically from their essential out-of-doors sketches, Knowles uses both nature and photographs from nature in the same manner so that the results are in every respect comparable.
Dorothy Knowles Wanted for Purchase
Mayberry Fine Art and our clients are actively seeking works by artist Dorothy Knowles for purchase or consignment. Contact us for confidential assistance when offering a work by Dorothy Knowles for private sale.
Add Dorothy Knowles to your Collector Profile
Want to get notifications or exclusive online offers for artwork by Dorothy Knowles? Add them to your collector profile and let us know what you're looking for.