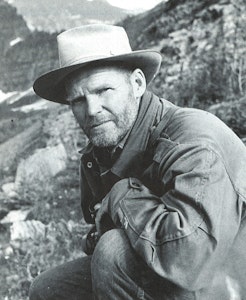 Recognized as one of Canada's premier nature artists, Clarence Tillenius was born near Sandridge in the Interlake region of Manitoba in 1913. He grew up outdoors among the forests and animals of the area. Sensitivity to his surroundings led to a life-long appreciation of the beauty and fragility of nature, in addition to an unending commitment to wildlife preservation.
An interest in drawing wild animals developed during the artist's earliest years. Despite the loss of his right arm in a 1936 construction accident, he continued to paint with his left hand. He developed his skills through studies with Scottish-born Winnipeg artist Alexander J. Musgrove, along with in-depth observation of nature, and studying the Masters, and the work of other nature artists. For over sixty years he traveled throughout North America to observe animals in their natural habitat. Sketches completed on these trips were developed into paintings in his studio.
Writings and illustrations created for the Country Guide, a Winnipeg-based national agricultural publication, familiarized a large audience with Clarence's art. Commissions over a thirty-year period from the Monarch Life Assurance Company resulted in a superb series of 36 paintings and their companion drawings on the themes of "Monarchs of the Canadian Wild" and "Furbearers of Canada". The Company distributed reproductions of these works across Canada. Clarence also created eighteen dioramas for national and provincial Canadian museums. These dioramas were a combination of painted backdrops and mounted animals, set in a quarter spherical space and depicted a scene of animals in their natural habitat.
Clarence was honoured for his achievements by numerous national and international organizations. He was a fellow of the Explorer's Club in New York and the Royal Geographical Society of London, England and was awarded an Honorary Doctorate of Laws degree by the University of Winnipeg in 1970. His art is found in private and public collections worldwide. The heritage collection established at The Pavilion Gallery in Winnipeg's Assiniboine Park contains examples of work painted over a sixty-four-year period, as well as invaluable archival material. It is a permanent resource for future generations to use and enjoy. Clarence Tillenius passed away in Winnipeg in 2012.
Clarence Tillenius Wanted for Purchase
Mayberry Fine Art and our clients are actively seeking works by artist Clarence Tillenius for purchase or consignment. Contact us for confidential assistance when offering a work by Clarence Tillenius for private sale.
Add Clarence Tillenius to your Collector Profile
Want to get notifications or exclusive online offers for artwork by Clarence Tillenius? Add them to your collector profile and let us know what you're looking for.