Sampson-Matthews Silkscreen , 1947
30 x 40 in
$2,600.00 including frame
---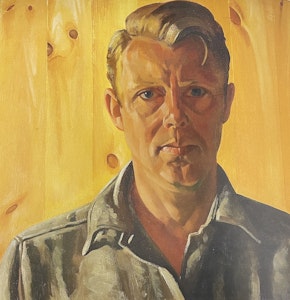 Charles Comfort was born in Edinburgh Scotland on July 22, 1900 and immigrated to Winnipeg in 1912. After working at Brigden's in Winnipeg and studying at the Arts Students League in New York he moved to Toronto in 1925. From 1960 to 1965 Comfort served as Director of the National Gallery of Canada. While the National Gallery had custody of the War Art Collections since 1946 it was only under Comfort that a Curator of War Art was appointed. During that time Comfort's commitment to war art showed itself in the funds made available for the proper storage and care of the collections and in the many important acquisitions in which he was personally involved. Some of the most popular Canadian paintings of the Second World War are Comfort's work. "The Hitler Line", a dramatic subject based on the artist's experiences in the Italian campaign hangs permanently in the Canadian War Museum. Comfort's careful reconstruction of the events of the ill-fated "Dieppe Raid" is another well-known composition.
Charles Comfort Wanted for Purchase
Mayberry Fine Art and our clients are actively seeking works by artist Charles Comfort for purchase or consignment. Contact us for confidential assistance when offering a work by Charles Comfort for private sale.
Add Charles Comfort to your Collector Profile
Want to get notifications or exclusive online offers for artwork by Charles Comfort? Add them to your collector profile and let us know what you're looking for.