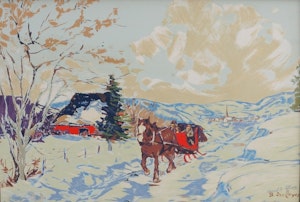 Born in Aberdeen, Scotland, in 1877, Berthe Des Clayes studied at the Bushey School of Art, Bushey England. She later attended the Academie Julian, in Paris. She returned to Britain and lived for a short time in London, England, before moving to Canada with her sister, Gertrude, in 1912. Their younger sister, Alice, also an artist, joined them two years later. They settled in Montreal, setting up a studio in Beaver Hall Square, a favourite haunt for artists and architects. Berthe travelled around England and France after the First World War. Throughout her life, she divided her time between England and Montreal and died in Devon, England in 1968. Berthe Des Clayes was primarily a landscape painter, working in oils, watercolour and chalk pastels. Her style was impressionistic and she was a two-time winner of the Jessie Dow Prize. She participated in the Spring Exhibitions of the Montreal Museum of Fine Art and with the Royal Canadian Academy. Her works are represented in the collection of the National Gallery of Canada.
Berthe Des Clayes Wanted for Purchase
Mayberry Fine Art and our clients are actively seeking works by artist Berthe Des Clayes for purchase or consignment. Contact us for confidential assistance when offering a work by Berthe Des Clayes for private sale.
Add Berthe Des Clayes to your Collector Profile
Want to get notifications or exclusive online offers for artwork by Berthe Des Clayes? Add them to your collector profile and let us know what you're looking for.